Snowmobile Insurance in New Hampshire
Also providing snowmobile insurance to residents in Massachusetts, Maine, Rhode Island, & Vermont.
What is snowmobile insurance?
Snowmobiling is one of the most exciting winter sports, and the White Mountains offer great conditions and terrain for enjoying the trails (and backcountry). Snowmobiling isn't without risks that New Hampshire riders should take measures to protect against, though. Safety gear and safe riding practices are of the utmost importance, but snowmobile insurance can also help.
Snowmobile insurance offers tailored coverage for snowmobiles. Should something happen on the trail or while in storage, a policy may give financial protection.
Which New Hampshire riders should carry a snowmobile policy?
Most New Hampshire residents who have a snowmobile should carry a policy that at least snowmobile liability insurance coverages. Coverages against damage to the snowmobile can be important too.
State law generally doesn't require coverage, but few riders could afford to recover from a major accident without incurring serious financial costs.
What snowmobile liability insurance coverages do policies provide?
Snowmobile liability insurance coverages can be extremely important regardless of how much a snowmobile is worth. Any rider could be involved in a major accident that results in property damage, injuries or even death.
Snowmobile liability insurance coverages might help in these cases. Some specific protections include:
Bodily Injury Liability:

Generally covers injuries to individuals not on the snowmobile, such as pedestrians or other riders.

Personal Injury Protection (PIP):

Generally covers injuries to individuals riding the snowmobile.

Property Damage Liability:

Generally covers damages to property belonging to third parties.
What other coverages do snowmobile policies provide?
Snowmobile policies provide coverages in addition to the snowmobile liability insurance ones mentioned above. These other coverages usually protect against damage to the insured snowmobile, and situations where another rider isn't insured. Coverage options usually include;
Collision Coverage:

May cover damages to the snowmobile resulting from collisions with vehicles or other snowmobiles.

Comprehensive Coverage:

May cover damages to the snowmobile resulting from non-collision events, such as animal impacts, falling trees or theft.

Accessories Coverage:

May cover damages to trailers, aftermarket upgrades and safety gear.

Underinsured and Uninsured Motorist Coverage:

May cover incidents involving snowmobilers or drivers who are inadequately insured.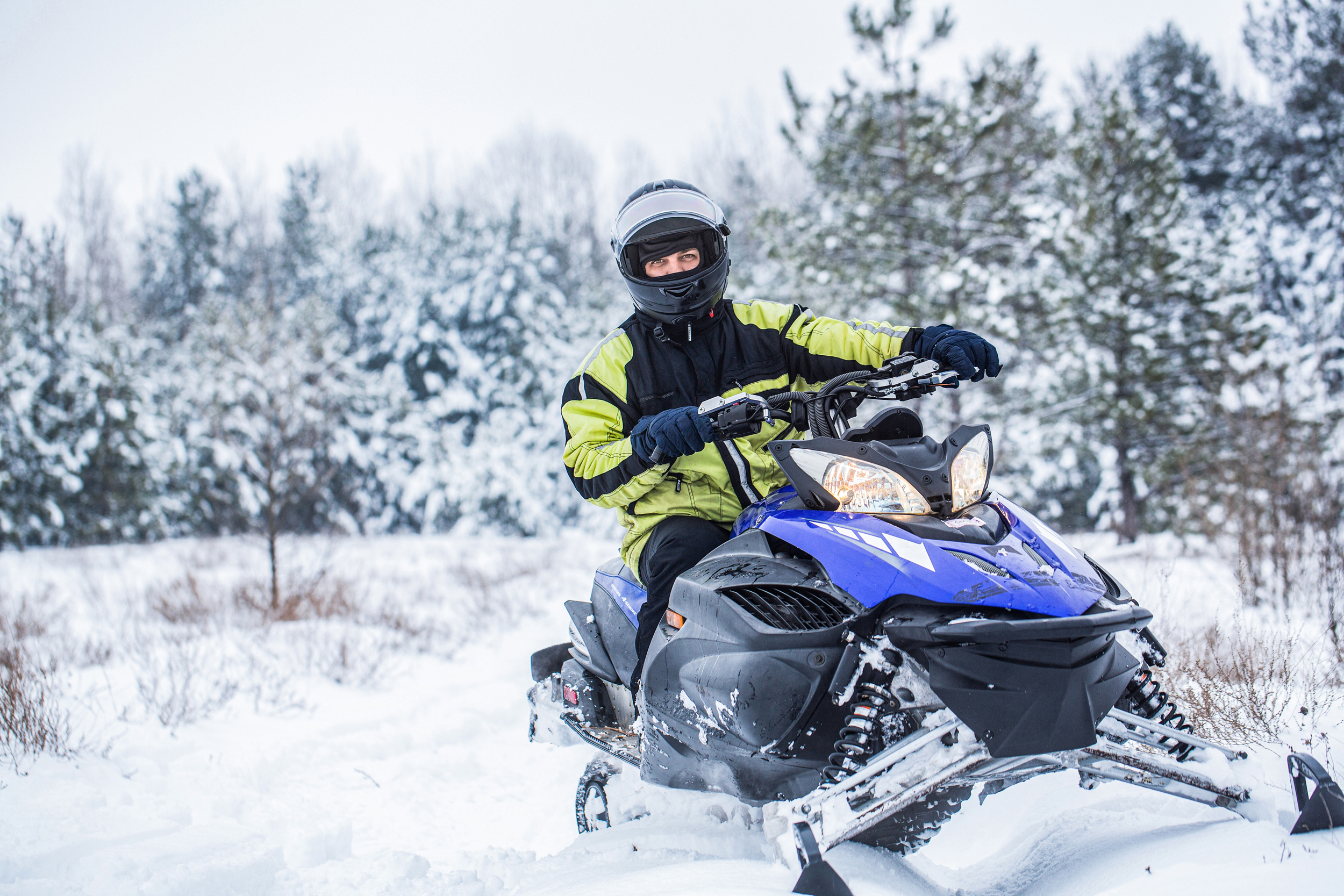 Can snowmobiles get roadside assistance coverage?
Even though they aren't only taken on roadways, snowmobiles often can be covered with roadside assistance. This is a feature that's optional in many of these policies. With this coverage, a snowmobile might be towed to a service shop if it breaks down.
Riders should know where their snowmobile can be towed from before adding this coverage to their policy, though. Some policies include towing from roadsides and trails, while others only cover towing from roadsides.
An insurance agent who specializes in snowmobile policies will be able to check which type of roadside assistance is offered by a given policy.
How much does insuring a snowmobile cost?
The cost of insuring a snowmobile depends on the model and many other details. A few factors that insurance companies look at include:
Year, make and model of the snowmobile

Where the snowmobile is generally used

Where the snowmobile is stored

Whether the owner has any accident history

Age and experience of the owner
For an exact quote, riders can work with an independent agent to compare policy options from several different insurers.
Do riders need to keep their snowmobiles insured during summer?
While some riggers might cancel their policy during the summer months, this generally isn't advised. The aim of saving on insurance premiums is understandable. There's a better way to do it, though.
Canceling a policy altogether can leave a snowmobile unprotected against damage that it could sustain while in storage for the warm months. In most cases, riders likely are better served if they reduce their coverages but retain important ones during summer.
An insurance agent can help adjust coverages so that necessary protections remain in place, but premiums are kept as affordable as possible, during the offseason.

How can New Hampshire riders get snowmobile insurance?
For help insuring a snowmobile that's used in New Hampshire, contact the independent insurance agents at Insurance24. Our agents will help you find snowmobile insurance that'll protect your snowmobile well when it's on the trail, being towed, or in storage.
Contact Info
603.536.8200

customercare@insurance24.com